What Sets Us Apart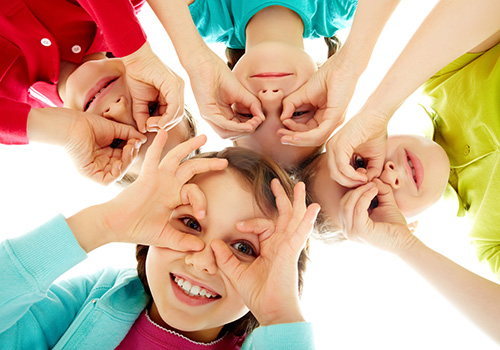 A Fun Atmosphere for Everyone
My practice creates a fun and unique experience from the moment a child enters our doors. You will feel as if you have just stepped into a rainforest island! Our front reception desk mirrors a tiki-hut highlighted with tiki torches, wood beams and an authentic thatched roof. In the center of the waiting room is a gigantic banyan tree stretching across our waiting room, creating a canopy over our game and computer centers designed just for kids. There is a complimentary Internet station and coffee bar, in addition to a "quiet sitting" area, especially for our parents to enjoy. While in our office your child will learn good oral health habits as we focus on oral care and prevention in a fun environment for the entire family!
A Warm and Friendly Team
At each visit, children are welcomed with a friendly smile and a warm hello by our team, as we emphasize the importance of making your child feel special. We strive to develop a trusting relationship with you and your child so that you are comfortable calling us your "dental home". We are careful to explain things in child-friendly terms, making sure that we are available and ready to answer any questions either you or your child may have during their appointment. Each team member is focused on creating the best dental experience for your child and working together with you to develop good dental habits early in your child's life.
A Complete Experience
Our office is brand new and equipped with advanced technology. We use digital xrays and high quality dental materials available for the most effective long-term results. Our office provides a variety of treatment options for your child including nitrous oxide "laughing gas", oral conscious sedation, as well as in-office IV sedation and general anesthesia. Our in-office IV sedation services are administered by Dr. Edward Davidian, who is a board certified dentist anesthesiologist practicing in the area and who is also Dr. Amy's husband. These services are particularly beneficial to young and/or extremely anxious patients with extensive treatment needs. Our goal is to provide each parent with a range of treatment options and services for your child within a trusted environment.
Patient Reviews
"Awesome overall! Fabulous and friendly service. Had some serious dental work on my 6 year old last year and diligently sought-out the best dentist in the area. Dr Holland and Dr Dividian were my chosen team from extensive search and recommendations. They truly came through for us and took excellent care of his needs and he hasn't had any issues since. Now all my 3 children are regular patients and love going to the very friendly Southpoint Pediatric Dentistry."
- Oscar, April 2019
"We have been coming to Southpoint Pediatric Dentistry for 5 years. My son was very comfortable with the staff from Day 1. From the jungle theme to wearing the cool shades in the patient chair, it has been a pleasure. Who says that about going to the dentist!!"
- Debra, February 2019
"This is possibly the best pediatric dentistry in Durham, NC and the surrounding areas. It is very neat, the staff is wonderful and friendly and Doctor Mark is incredible!

The staff made my daughter very comfortable, they are well organized and prompt with everything. Your child will be well taken care of here."
- Crystal, February 2019
"5 stars hands down!!! All around wonderful service from all ends...front desk,to dental assistants to the dentist themselves,everyone is great giving the utmost care while taking care of our little ones..not to mention the clean cool atmosphere made just for our kiddos is very inviting and warm 😊 **another update! Initially my reviews say"her" referring to our usual dentist however,we've recently met Dr.Mark who's treated 2 of my 4 now quite a few times and he's just wonderful like the rest of the team...I honestly love the entire outlook of SPP as they seem to strive for the best team possible working together to create a nice experience for our children no matter the situation. Thank you Southpoint Peds!"
- Cortni, December 2018
"I have 2 children who having been going to Southpoint Peds for several years. My children have had a few procedures and regular cleanings with Dr. Amy and her amazing staff. Dr. Amy and her staff have always been VERY comforting. There is a lot of anxiety in young children when having dental work and/or cleanings and they have always felt at ease once they walk through the doors.
Whenever a procedure is needed, they inform me of all my options and they educate me so I can make the best decision for my children. For example, my child needed a procedure and Dr. Amy not only verbally explained what my options were but she supplied me with print outs with even more information. For example, the use if nitrous oxide (laughing gas) or fluoride. 
As a parent I want to be informed but it is also very important to me that my children are comfortable. Over the years, Dr. Amy and her staff have formed a bond with my children. I believe it is very important for kids to have trust in their dentist/doctor and the support staff in the office. My kids enjoy that they have a say in things such as the flavor of fluoride or what movie they can watch on the flat screen TV positioned overhead if having a cavity filled. My kids love that when they return for their 6 month cleaning and the staff not only remembers them but things they have discussed together before.
I would 100% recommend Dr. Amy and her caring staff!"
- Cheryl, September 2018
"We love Dr. Amy and her staff. I did my research because my daughter needed crowns due to weak enamel. Dr. Amy is highly skilled and her office has one of the only pediatric anesthesiologist on staff. The dental hygienists are extremely patient, kind, and parents are allowed to be with their children during check-ups. I trust Dr. Amy and her staff and I recommend Southpoint Pediatric Dentistry to all of our friends."
-Karen, July 2018
"Both of our daughters have been seeing Dr. Amy and staff since they were 1. They have been incredibly patient and kind with both girls and explaining and discussing any questions or concerns we may have. I would absolutely recommend them to anyone looking for a pediatric dental practice."
- Madison, July 2018
"After doing our research of area offices we sent our 8 year old to Dr. Davidian to have dental work done while sedated. We were so worried and we shouldn't have. Dr. Davidian has it all together and was very informative through entire process along with her staff. Everything was explained in detail before, during and after treatment and when finished she was brought to us wrapped in blanket to wake up in Dads arms with the staff close by. Perfect mix of professionalism, attention to detail and caring! Our child was very scared and cried when she knew she was going to appointment in morning and when leaving wanted to make sure she gave the dentist a hug before we left! We highly recommend Dr. Davidian and staff to any child need of dental treatment! We were totally impressed!
Thank you Southpoint Pediatric Dentistry!"
- Wendy, May 2018
"This is a wonderful practice. Everyone is so nice. I talked to several different people on the phone about appointments/insurance and they were all pleasant, efficient, and helpful! My three year old has always done well here, but for some reason she got very upset during her recent appointment and the staff was very patient and caring towards her. Our hygienist, Kaitlyn, was so kind and Dr. Amy was great too. They cleaned and checked her teeth gently and carefully. She calmed down by the end. My 17 month old had her first appointment and did so well. Great place to take little kids!"
- Julie, June 2016
"Dr. Amy's rain forest themed office is truly beautiful and kid-friendly. My 4 year old gets really nervous with doctor/dentist visits but Dr. Amy and her team are very gentle and caring, so we've always had positive experiences. Both of my kids (ages 8 & 4) have been coming here for 4 years and we love the wonderful staff and services."
- Kathy, June 2016
"It is very warm when you first walk in. Everyone is very nice and very helpful. They are very great with our son even though he doesn't like it just yet. I will be brining all of our children here. The doctor she is very very nice and gentle with our 2 year old. Absolutely a great place to go."
- Shunterika, June 2016
"My sons really love coming to Soutoint Pediatric Dentistry..... Every time they know we're coming they get super excited.... Coming from a parent...... I love it the staff here is wonderful and very welcoming. I feel very comfortable with them. So should YOU!"
- Jameka, June 2016
"My Daughter has her first dental appointment today and she had a blast! Such a wonderful atmosphere for children of all ages! I would recommend this awesome place to any mom or dad out there! Your child will love the rainforest"
- Christin, May 2016
"I love taking my kids to southpoint pediatric dentistry . The staff are super sweet and nice . Always keep you updated about how your child is doing. They also take very good of the parent by offering coffee, tea and water while you wait for your child."
- Malia, June 2016
"Wonderful experience at Southpoint Pediatric Dentistry! The rainforest waiting room is so fun and makes waiting for your turn really easy with kids. Tthe staff is all extremely friendly and great with our 2 year old twins, and Dr. Amy is obviously very knowledgeable and great with kids!"
- Kelly, May 2016
"Great staff. Very knowledgeable. They are understanding of different parenting choices and totally not judgmental either way about big decisions in dental work. They tell you their dental recommendations without encroaching upon your choices. We drive from Garner for these guys. The kids love them."
- John, February 2016
"Went with my two year old girl for her first appointment this afternoon and I was floored with how amazing the staff were with her. Basically no wait time and all around amazing people! I will continue to take my girl here even if it means an hour drive for us from Person County."
- Justina, May 2016
"I love this place!!! They are always nice and courteous!!!My kids have been patients for several years and i have can truly say i would recommend all of my family and friends!!!Best dental office in Durham!!!!"
- Joni, June 2016
"Thank you Cait and Dr. Amy! Cam had a horrible experience many years ago and was so terrified to go the dentist. He has been struggling with a toothache, so it was time to go and I knew I had to find somewhere that would give him a safe environment. The girls at the front desk were awesome with working with me to get Cam quickly seen. I scheduled his appointment on Friday and made today (following Monday). The office environment was very inviting and clean. Cait was exce...llent explaining to Cam how to floss and brush his teeth. She was very gentle with Cam when cleaning his teeth and made sure he was comfortable during the whole cleaning process. Dr. Amy was so sweet when she came in and looked at Cam's xrays and saw that he had cavities and had to have a tooth removed. She was excellent with explaining the treatment plan and recommending general anesthesia because he is so apprehensive. It is a nice drive from Wake Forest to Southpoint, but it was well worth. Thank y'all for taking care of my Cameron. I urge many friends that have not established their kids at a dentist to give Southpoint Pediatric Dentistry a call."
- Jennifer, December 2016
"My son has bad anxiety when it comes to a dentists and needed right much dental work. We tried nitrous oxide first and after the first shot Dr. Amy was like I'm not doing this and making him scared which I truly appreciate. So they suggested general anthestia and we went today and all his dental work is done. They did an awesome job at keeping him calm and were great at keeping us updated every 15-20 minutes. DA Megan is just the sweetest my don loved her, but I have yet to have one bad experience there with anyone. They go above and beyond in all areas. He's in some pain which is expected but everyone at that office is super friendly and caring. Needless to say we have found our dentist. I can't thank everyone enough for their patience and caring nature. I would highly recommend Dr. Amy to everyone."
- Angela, September 2016
"As someone who has been working in a dental office for the past 8 years, I'm pretty particular with who cares for my daughter's smile."
"This office is by far my favorite Dental office! I honestly can't say one thing negative. Everyone is nothing but smiles when you walk through the door. They're extremely personal and go above and beyond to make your child feel comfortable and at ease with the procedures. Any and all questions are answered without hesitation or being rushed o...ut."
"Dr. Davidian is truly a beautiful person inside and out! Her passion for dentistry and children shines through. She's always patient, understanding and approachable. She succeeds at making your child feel as if they're the only patient she's seen that day. Friendly, Outgoing and Kind."
"We look forward to my daughter's cleaning appointments and although we love every staff member at this office, DA Megan is our all time favorite! My daughter talks about her for days after her appointment's"
"I highly suggest this office to any and everyone! Whether your child is comfortable and just needing some routine cleanings, or if your child is suffering from dental anxiety and needs a little reassurance."
"This office is certainly one of a kind and I feel fortunate we came across this office. I typically don't write reviews but as a mom I know other mothers may be searching for the PERFECT dentist for their sweet Child/ren."
"Hopefully you fall in love with their office as we have "
- Joni, July 2016
"I take all 3 of my boys there (6, 3, 2) & they take great care of the kids!! During my oldest's first visit, it was discovered that he needed two teeth pulled and he went back without any hesitation and came out feeling great and no tears! That speaks volumes to me that he was so comfortable on his first visit! The staff is great & the dentist is great!"
- Amanda, April 2015 (Google Review)
"They are excellent! Very pleasant, great customer service. They helped 3 of my children. My children are no longer afraid of the dentist. Thank you Dr. Amy Davidian and staff.."
- LaShaunda, April 2015 (Google Review)
"We chose SPD for our two- year old daughter's first dental experience and were impressed from the time we made the appointment to walking out of the door after the actual appointment. Everyone was so friendly, patient and welcoming. The office was inviting and screamed "kid-friendly." We were a little nervous going into this appointment considering that this was happening during nap time but because everything was so calm and the dental assistant clearly knew how to interact with children, it was all smooth sailing. No Tears. No Fuss. All Smiles! We got a great report and my LO walked away with a Minnie Mouse sticker, a bath toy, floss, some toothpaste and a brand new, genuine, Winnie the Pooh toothbrush! Needless to say, nap time resumed as soon as we put the car in drive. Thanks, SPD!! We'll see you in 6 months."
- Tiffany, March 2015 (Google Review)
"We took our kid for dental procedure here. Dr.Amy and Dr.Davidian are awesome. Their staff are also very helpful. My kid needed removal of 8 teeth under GA and we were worried but they handled the process so well that all our anxieties were gone. Also, this was the first practice where they were able to get dental x-rays for my kid, others couldn't ( i tried 5 different practices). They worked with our social worker as well for managing our costs. Thank you South Point Pediatric Dentistry Team for helping us."
- Ramanujam, February 2015 (Google Review)
"My son had his first dentist visit today at Southpoint Dentistry and the staff was wonderful. They were very friendly, kind, patient, and they all had smiles on their faces like they really enjoyed their jobs. My son loved this place and so did his father and I. Thank you all for a great experience!!"
- Kendra, February 2015 (Google Review)
"Southpoint Pediatric Dentistry is awesome! My family and I love to come for dental visits. Everyone here is friendly and compassionate. If you're not coming to Southpoint Pediatric Dentistry, you need to switch!"
- Jameka, November 19, 2014
"I absolutely love this dentistry, the staff is completely in tune with both my boys' feelings and concerns. They have always made my boys feel comfortable as well as myself as the parent. They go above and beyond to provide quality care for my boys. From each and every staff member, from the time you walk in the door until you leave. I drive an hour just to come to Southpoint Pediatric Dentistry because they are the best. You guys rock!"
- Crystal, September 25, 2014
"Our family loves coming here for dentistry. It is a fun, playful atmosphere. Everyone is smiling and greets our children. Our girls have had to have some extensive treatment and we feel they have prepared us to see how each step would be completed. We are grateful to have you all."
- Debbie, September 24, 2014
"Awesome place for kids, my girls love everything about coming here!"
- Brynn, June 11, 2014
"Kyleigh (5) and Jillian (3) have enjoyed their trips to the dentist. The staff and Dr. Amy have always made them relaxed and they feel safe. It is not a scary thing to them. We are so happy we found a practice that treats children as more than a number. They understand they can be nervous and help them feel comfortable."
- Cheryl, June 4, 2014
"Wonderful - gentle and considerate of patients. Great atmosphere visually and good entertainment for siblings in waiting area. Kids are excited to come."
- Michal, June 4, 2014
"I love the environment that this place has, great things for the children to do. My babies love the game system in the waiting area and the tv on the ceiling while in the back."
- Daysha, May 5, 2014
"Southpoint Pediatric Dentistry is one of the best dental offices we've ever been to. The employees are all friendly and the complimentary coffee and water top it all off. I like that they keep you updated on what's going on behind the waiting area."
- Jocelyn, April 2, 2014
"Great, the environment, the front desk personnel and the whole of the dentists here are so wonderful to children. My son loves this place (although he is not here for fun!) and was complaining when we went to an orthodontist that it wasn't as good as here! So thanks, don't change."
- Nadia, December 4, 2013
"We love the Rainforest theme and the atmosphere is very kid friendly J. I've already told my friends about how wonderful you guys are!"
- Marissa, November 20, 2013
"Everyone at Southpoint Pediatric Dentistry has always been pleasant, professional, and informative. I'm very pleased with their services."
- Jennifer, November 13, 2013
"What an amazingly fun atmosphere for children (and adults too)! Thank you for making my children feel safe and for making going to the dentist no-so-scary."
- Melissa, October 29, 2013
"We are very happy with the treatment that we get here. My kids really enjoy coming to the dentist. That makes me feel real good. Thanks!"
- Walter, October 29, 2013
"Our daughter is getting her teeth cleaned now and this is her 3rd visit to Southpoint Pediatric Dentistry. Having come from Ethiopia in 2012 and having endured very traumatic dental experiences- this turned out to be the best place to bring her. The team works very hard to ensure she is comfortable, helping her get over her fears."
- Katherine, August 8, 2013
"We love the waiting room with the big tree! It doesn't even seem like a dentist's office ;) The atmosphere makes it easier for my son who is afraid of the dentist!"
- Jennifer, August 8, 2013
"We are very happy with the service at Southpoint Pediatric Dentistry! Everyone is very polite and courteous. We will continue to bring all of our kids here."
- Walter, April 18th, 2013
"Great hospitality and great patience with the children!"
- Kameron, April 18th, 2013
"Excellent! My son really enjoys coming here, after the first visit he wanted to come back the next day. He said everyone was so nice and explained everything to him. Great job!"
- Danielle, December 14, 2012
"I love bringing my children here, my daughter used to fear coming to the dentist. The staff are all very friendly, and always smiling! I wouldn't take my children to any other dentist now, after coming here."
- Nicole, November 29th, 2012
"Having come from another great practice that was just too far away- we had high hopes. They were all met, and then some! The staff and Dr. Amy are GREAT!"
- Juliana, November 20th, 2012
"So far I've been to 2 other dentists and this is the best one because there is not much waiting. I can see what's going on with my child in the back, or someone comes out and keeps me informed. All the staff are very nice! Keep up the great job. I'm really thankful for everything. The waiting area is clean and pretty, I like the rainforest design throughout the office. Thanks for the coffee!"
- Cinthya, November 19th, 2012
"All of the staff are pleasant and friendly! The office is child and adult friendly as well. My daughter loves her new dentist!"
- Tracey, November 19th, 2012
"My daughter (age9) has suffered from severe anxiety related to dental visits for the past 5 years. At our PREVIOUS dentist, she would have panic attacks & faint EVERY time. She even fainted at one of her brother's appointments just by sitting in the waiting room! The dentist and I decided to try Valium to calm her during her checkup. She responded well and they were able to do a complete exam. During the exam, they found she had several cavities (2 on adult teeth). Due to her anxiety, the dentist refused to treat her in the office. She wanted to hospitalize her, put her under general anesthetic & fill the two cavities in her adult teeth. Out of pocket expenses would have cost us around $4,500. I did not want to put her under and could not afford to pay thousands of dollars for TWO cavities. So, looking for another option, I took a chance and googled "pediatric dentistry/Durham" and discovered Southpoint Pediatric Dentistry. I decided to give it a shot before we went to extreme measures with our current dentist.
Upon our first visit to Southpoint Pediatric Dentistry,"I" was extremely nervous. Given my daughter's history, I expected the worst. I asked to speak to the assistant, Shanelyn before my daughter went in. I explained her condition and warned her that she may pass out. Shanalyn and Rhonda were very comforting and seemed up for the challenge. Knowing my daughter does better when I'm not in the room, I asked to wait in the waiting room. Shanelyn & Rhonda invited her to enter & took over while I waited. Much to my surprise, I was watching my daughter through the glass door SMILING, LAUGHING, and looking relaxed as they cleaned her teeth. I was so relieved! Dr. Amy was able to do a complete exam. Obviously, those cavities were still there. Dr. Amy explained what needed to be done and set up a treatment plan... in the office & without the use of general anesthetic.... and at a fraction of the cost! The BEST part (and most unbelievable) is, when my daughter's appointment was over, she told me that she thinks she would like to be a dental hygienist when she grows up!!!! Talk about a 180, WOW!!!
Since her initial exam, my daughter (and son, age 6) have both completed their treatment plans, requiring 2 appointments each. To quote my daughter, "It was nothing." They both really like the entire team. They said that during their treatment they were SO nice, talking them through it & explaining each step of the procedure. They both insist there was no "shot" involved... and at this point, I'm not about to tell them otherwise. ;-)
As a mom, I can't explain the joy I feel now that my daughter has overcome her fear of going to the dentist. I can't thank Dr. Amy and her team enough for helping her get over this obstacle.
I am extremely pleased with Southpoint Pediatric Dentistry. Everyone at the practice is a caring professional. Lexi was extremely helpful with ALL of my questions regarding appointments, cost, insurance, billing & our treatment plan. I must add - she is just the SWEETEST woman, so cheerful & eager to assist. Shanelyn, Rhonda & Hannah are all fantastic at their job & demonstrate the upmost care for their patients. Dr Amy is just wonderful. It is obvious that she put a lot of thought into building her practice here in Durham & carefully employed a skilled, knowledgeable staff to match her expertise. I am over-the-moon-happy with the entire practice! I have been singing Dr Amy's praises since our first visit. I HIGHLY recommend Southpoint Pediatric Dentistry."
- Holly, August 15, 2012
"This was our first time to the dentist with our daughter, so I was a bit nervous, but what an amazing experience for both parent/child. Very professional and kid friendly. Going to visit Dr. Amy and her staff is something our family looks forward to. It gives me great comfort knowing that my child is in such great care!!"
- Sarah, August 2, 2012
"The staff are very concerned for the children making sure they get what's needed to have a beautiful smile. Way to go!! The kids are in good hands….I'm glad my kids are here. The office setup is excellent, a wonderful place for children to feel safe and healthy."
- Diana, July 25, 2012
"I cannot say enough good things about Dr. Amy's office. When contacting them to get an appointment, it is always easy to get hold of them (via phone or email...they respond very quickly) and Lexi is super nice (and immediately greets us by name as soon as we enter). They file insurance for you (which I've not found with many other offices). I don't have separate dental insurance for my little ones, so have to pay for most out of pocket, and have found they are very reasonably priced compared to other practices (definitely no gratuitous/unexpected charges).
Their office is gorgeous, clean and soothing. There is a Keurig station/complimentary coffee for the adults. It is beautifully decorated, and there are a few age appropriate toys for the little ones, homework stations/desks and monitors for the older ones. It is not overly cluttered or stimulating...no loud music or musical/clanging toys (which is why my sister with autism/SPD loved it). They have quiet video games the kids can play back in the treatment rooms to keep them occupied while the staff is prepping/consulting with the parents, and of course the flat screen TVs on the ceilings in the private treatment rooms.
We've been 3 times so far: The first was a routine cleaning/X-rays exam for my 4 yr old son. My 4 yr old started the visit by hiding under the chairs in the waiting room, and ended the visit by hugging Ronda and Dr. Amy and high-fiving Lexi on the way out. Ronda was fabulous with my son....this child won't even let ME look in his mouth, and somehow Ronda convinced him to let her do a full cleaning. He loved the pair of rainbow colored sunglasses he got to wear, and loved brushing the oversized teeth on the stuffed animals provided. They found several cavities, and were awesome in helping us come up with a reasonable treatment plan. They took his photo and gave him a keepsake on the way out, along with a token to use in the prize vending machine.
Second visit was for my 3 yr old son, who needed to be seen for an emergency (bloody lips, gums, loose/crooked front tooth). They worked us in quickly, and by the time we arrived Lexi had already called our health insurance to verify coverage for the emergency. I have an unreasonable 3 yr old, who is terrified of strangers and screams inconsolably if touched by any medical personnel. That didn't change much (NOT their fault), but they had the staff necessary to get the Xrays done quickly, did not get flustered at all with my little one....seemed completely unphased and were still smiling/sympathetic. There were several unnecessary/expensive treatments that could have been recommended in his case for his injury, but a conservative wait and monitor approach was recommended (which I SO appreciated) and they gave me great resources/information so I felt comfortable doing that.
Our third visit was for conscious sedated dental treatment for my 4 yr old to address the cavities discovered in his first visit. We chose sedated dentistry, as treatment would have required 3 brief return visits, and we wanted him to maintain a positive attitude towards going to the dentist. Dr. Amy is well trained in sedated dentistry, and has additional support in the office on the days this is scheduled. They were in contact many times with us ahead of time (via phone and email) so my husband and were well prepared and knew what to expect. We got to stay with our son in a private waiting room (plush couches and a portable DVD player that he got to watch the movie of his choice while waiting for the medication to kick in). Ronda carried him back for his treatment while my husband and I stayed in the waiting room. They wrapped him in a warm blanket/cocoon type restraint to protect him (he described it to me, and actually liked it) - which is far superior to some of the other horror stories I've heard from other practices that use arm restraints. Treatment was fast, and he was carried back to us quickly - my son came back smiling saying 'they told me I was so good' and 'I want to come back tomorrow!'...so obviously they took great care of him. Both Ronda and Dr. Amy went over our home instructions (reiterated a few times...which was a good thing as we intermittently distracted with our son), and Dr. Amy called us after hours that night to check on him.
My mom has also brought my sister with autism for treatment as well - my sister told me she loves it there and my mom was so pleased with how they treated her. She described it as 'very soothing' and said 'I felt like a grown-up!' Other offices have been a very bad experience for her for various reasons (no training with special needs, condescending/impatient, loud/over stimulating offices, treating too many kids at once etc.). The staff was wonderful with her, and mom is switching her care there full-time as well - so I know they are as great with older kids as they are with my little ones.
Overall, I LOVE this practice and have been telling all my friends/family to go here. They are in a great location (convenient to Durham, Raleigh, Cary etc.)....am so thrilled there is finally a wonderful practice within driving distance for my family."
- Jennifer, July 12, 2012
BACK TO TOP